Located on the first floor, this 1200 sq ft space was added on to the Dragonfly Retreat in 2016. It has ample room for up to 24 tables and office chairs for crafters. Both 4 foot and 6 foot tables are available, or they can be stored out of site. A wireless ceiling projector with a large screen is available for guest use. For quilters, this room will be set up with a Handi Quilter Sweet 16 sit down long arm sewing machine, ironing boards, irons, and cutting mats. The 10 foot counter works well for buffet service or space for crafters.
Four spacious bedrooms are located on the second floor and include pillow top mattresses, original woodwork, large closets, ceiling fans, and plentiful windows with views of the peaceful town of Bangor.
Yellow Room – 4 twin beds
Blue Room – 5 twin beds
Green Room – 4 twin beds
Mauve Room – 3 twin beds
*All bed linens are provided along with a dragonfly quilt for each bed.
Located on the first floor, this recently updated kitchen has a large refrigerator, dishwasher, microwave, gas stove and oven. Available for your use, you will find a coffee maker and Keurig (with coffees/teas/ hot chocolate), a large number of cloth napkins, heavyweight silverware, cookware and bakeware, dinner settings for 50, 3 crockpots of various sizes and a triple crock pot set, 2 chafing dishes, a hand mixer and mixing bowls, a blender, an InstaPot, a Kitchenaid mixer, and a full set of kitchen gadgets and utensils. Lots of counter space and a central island with seating for 3 that works well for food prep, morning chats over coffee, and buffet service.
First floor – full bath with heated floor, shelves, and linen closet
First floor – half bath includes cleaning supply cupboards
Second floor – full bath has inner and outer rooms with sinks and mirrors
Third floor - full bath with shower
*Plush towels are provided.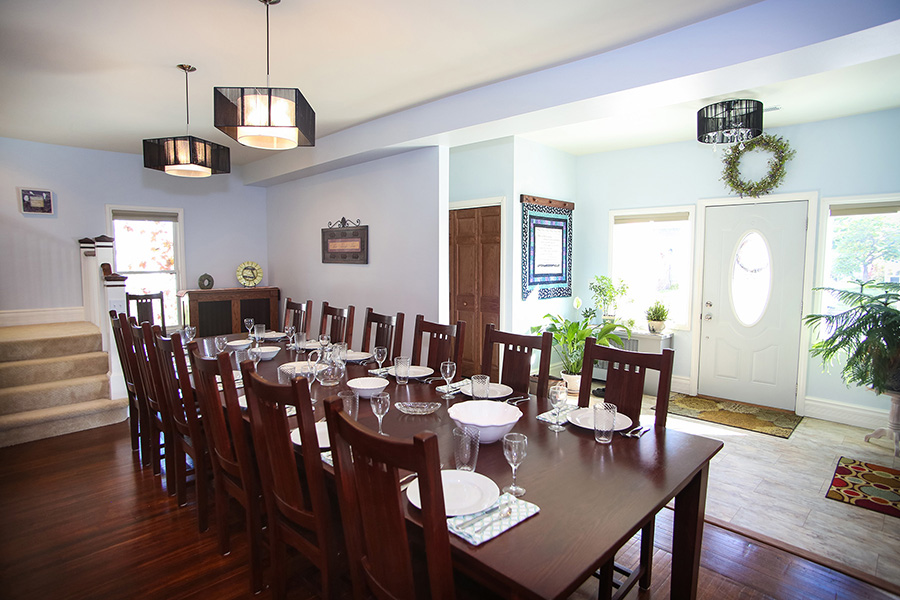 This spacious first floor room with original narrow slat hardwood flooring boasts a beautiful Amish-made table and chairs that can be as small as a table for 6 or be extended to seat 16 at your request.
Comfortable couch and chairs create a relaxed gathering space for a first floor small group. A wide screen TV is available for your use with HDMI inputs and cables for attaching to your device. A DVD player and several movies are available for your use.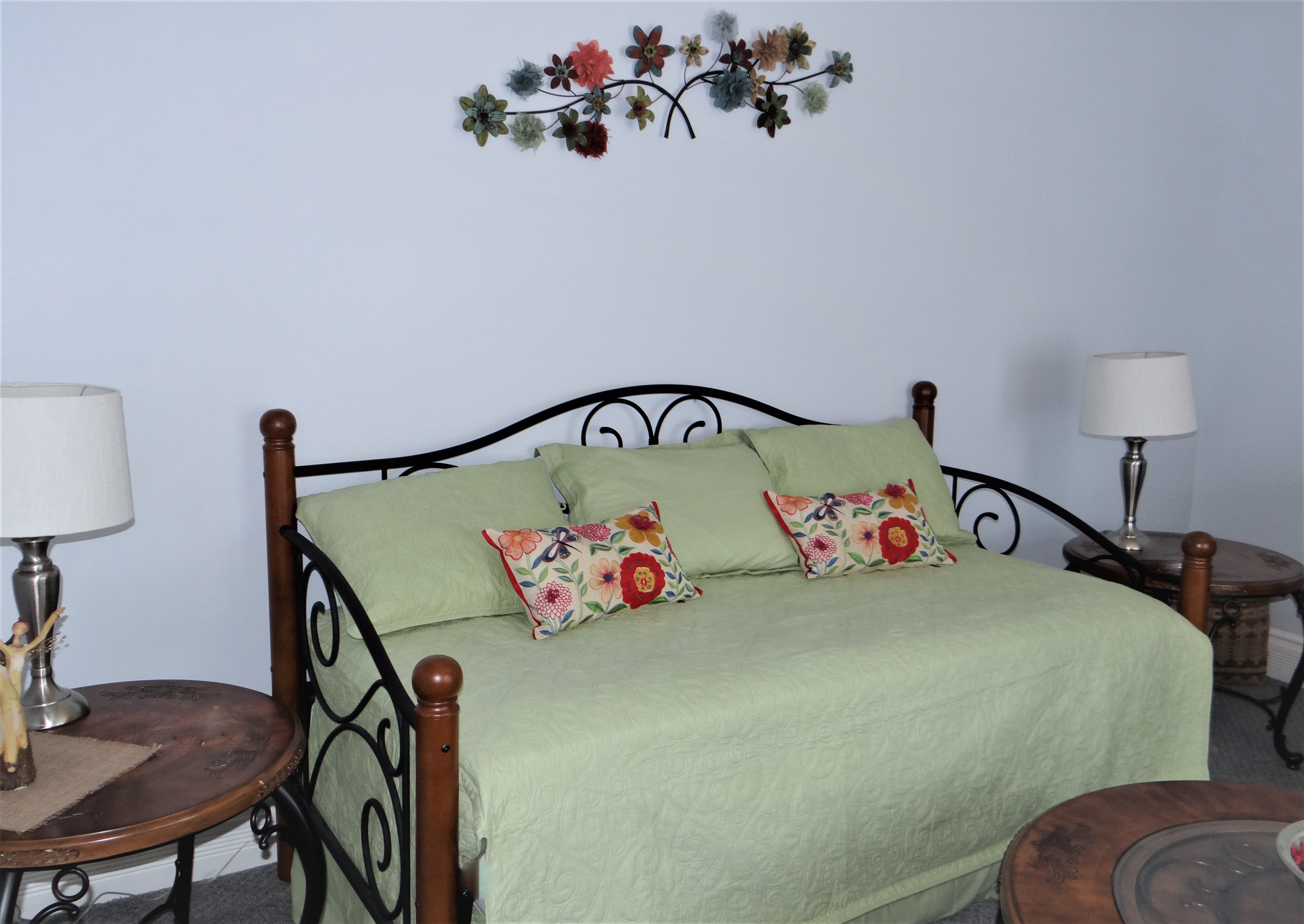 Located on the first floor between the living room and first floor full bath, this room has comfortable seating including a day bed (with trundle) and chairs.
This first floor room serves as the back entrance to Dragonfly Retreat. It provides a large space for unloading your car. In warmer seasons, it provides a gathering space for 3 – 4 people to relax or have a small group discussion.
A full capacity washer and dryer set are available on the first floor.