---
Retreat Schedule for 2021!!!
---
Thread Painting with Joyce Hughes

June 25-28, 2021
6:00 p.m. Friday to 4:00 p.m. Monday
Instructor: Joyce Hughes – Quilter, Fiber Artist, Author
Package: $750 (3 day workshop, kit, lodging, and meals) – $650 with off-site lodging
Level: Beginner
Joyce Hughes is an award winning quilter and fiber artist who has recently been deluged with requests to teach the techniques from her new book, Creating Art Quilts with Panels.  We are excited to have Joyce join us at Dragonfly Retreat for three full days of dimensional thread painting techniques. Joyce will provide a kit with a panel, backing, batting, sewing needles, and 29 different spools of thread for each student. There is no list of supplies to find, and you will learn about using different threads, needles, and colors. Just bring your domestic sewing machine (or borrow a Bernina from us) and join us for this creative and inspiring weekend.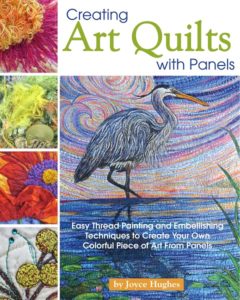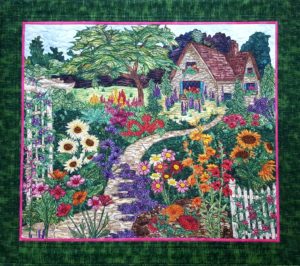 ---
Animals Brought to Life with Barbara Yates Beasley
July 11-16, 2021   
4:00 p.m. Sunday until 5:00 p.m. Friday 
Package: $1,350 on-site (includes 5 day workshop, lodging, and meals) –  $1,200 off-site lodging
The love of animals and photography translated into multiple publications, awards, and exhibits that celebrate the unique style and animal quilts of Barbara Yates Beasley. Barbara's quilts are know for capturing the expressions and body language of her animal subjects. Bring a favorite animal photo to this workshop, and Barbara will teach you to bring it to life in a unique quilt that will create a lasting memory.
Just complete and mail in the registration form with your payment to reserve your spot. Hurry, space is limited.